We're lucky enough to have returned to the portion of the year where (almost) every day you wake up, the Cardinals play a baseball game. It's great! Cardinals baseball being played is, without a doubt, a thousand times better than Cardinals baseball not being played.
Some go back and forth on the pros and cons of the World Baseball Classic, but for me one pro outweighs all others. How often is it that we get real, live baseball in February? Sure, it's only Spring Training games, but allow me to describe to you exactly why I couldn't care less.
When the Cardinals lined up on the chalk for the playing of the national anthem before their first Grapefruit League game on Saturday, it was their first time doing so in over four months!
Say what you will about Spring Training being too long or too boring, or how I shouldn't overreact to Matt Adams hitting .400 with a dozen homers this spring. It's going to happen. It's a spring right of passage, and I love every second of it.
For an entire month, it's like we're playing baseball with house money. There's no need to critique Mike Matheny's questionable lineup decisions, or to scream at the television when Mike Leake gets lit up and departs the mound after four innings.
Spring Training is baseball at its purest, until of course the sixth inning, when Yadier Molina and his friends grab a shower and a bunch of players with numbers in the nineties take the field.
But even then, it's a look at our promising future! Those no-name, big-league-looking guys with the lofty numbers on their backs are actual professional baseball players, and they could be impacting a regular season game played at Busch Stadium sooner than you think.
I'm not going to get all sappy with narratives and cliches about that wonderful crack of the bat or pop of the glove hitting the mitt, because these days it's even less notable things about Cardinals baseball that make Spring Training not only bearable, but outright enjoyable.
It's how my nightly Twitter feed has gradually transitioned from nonstop trade rumors and workout videos to actual commentary on real players playing real baseball.
It's the familiar radio voice of Mike Shannon painting me a picture of the gorgeous Floridian sun beating down on the field as Aledmys Diaz glides across the second base bag to turn a double play.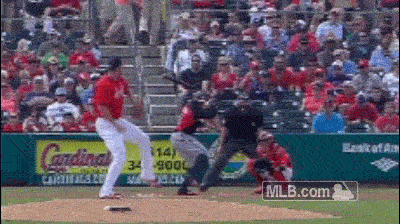 There have been no statistics in this article, nor will there be in the remainder of it, and that's the beauty of it all. Sure, it's nice to see Carlos Martinez throwing 97 MPH in March, but it's also nice to just see Carlos Martinez period.
We don't need to worry ourselves with wOBAs or BABIPs or K/BB ratios in Spring Training, or fret about how our Grapefruit League lead is down to just two games over those pesky Mets in Port St. Lucie.
Day after day, game after game, we can sit back and watch Cardinals baseball just for the fun of it. It's a welcome contrast to the (admittedly moderate) baseball-less winter we're just now escaping. And before you know it, a month will have flown by, we will have a new World Baseball Classic champion, and it will be Sunday, April 2nd, Opening Day.
Until then, I'm going to enjoy watching baseball players play baseball games, because that's something I haven't been able to do for too long a time. Consider this your annual reminder of baseball's pure beauty, and how wonderful it is to watch the boys from St. Louis play this game.
Photo by © Steve Mitchell-USA TODAY Sports