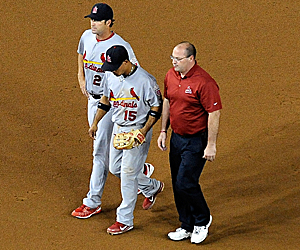 On August 30th, starting shortstop Rafael Furcal left a game against the Washington Nationals with an apparent arm injury and has not returned to the field since. Furcal was voted in as an NL starter for the 2012 All Star Game, yet had a pedestrian 2012 season by his standards. Furcal drove in 49 RBIs, his most since 2006, and scored 69 runs, his most since 2010. However, Furcal hit just .264 and posted a .325 OBP, the second-lowest and fourth-lowest of his career, respectively, while his .346 slugging percentage was the worst of his 12-year career. Furcal finished dead last among NL shortstops that played the required number of innings to qualify for the Ultimate Zone Rating statistic this season, posting a -8.5 UZR – this means that he surrendered 8.5 runs because of his fielding. Furcal was only worth 1.2 wins above replacement, the third-worst total of his career and a statistic that ranked him 103rd in baseball among journeymen like Chris Davis, Mark Reynolds, and Ryan Doumit. Clearly, Furcal struggled in the field and at the plate this season, so how much do the Cardinals really miss him?
The answer is quite a lot. While Furcal was mediocre at best, Daniel Descalso, the logical choice to replace Furcal, and Pete Kozma will struggle to accomplish even that. In his 25 games at shortstop this season, Descalso has hit .240 with four RBIs, seven runs scored, and a single extra base hit, while posting a .301 OBP, a .267 slugging percentage, and striking out in 22.7% of his at-bats. Descalso has also struggled in the field, committing eight errors at short in just 25 games, and posting a UZR projected over a full season of -12.2 runs saved. Kozma is a 24-year-old middle infielder who was a top-10 prospect in the Cardinals' farm system as recently as 2009. However, Kozma has not hit higher than .232 and has not posted an OBP higher than .292 in two seasons at triple-A.
There is no question that the 34-year-old Furcal is on the back end of a successful major league career. However, the Cardinals will miss him for reasons other than his poor replacements. In his career in the months of September and October, Furcal posted a .287 average with 55 steals while scoring 143 runs and recording 249 hits in 220 games played. In those months, Furcal also posted a .343 OBP and a .431 slugging percentage. So while he had struggled especially in the second half of the 2012 season, Furcal's experience and clutch hitting would have been valuable assets for the Cardinals in their push for a postseason berth and beyond, regardless of who is chosen to replace him.