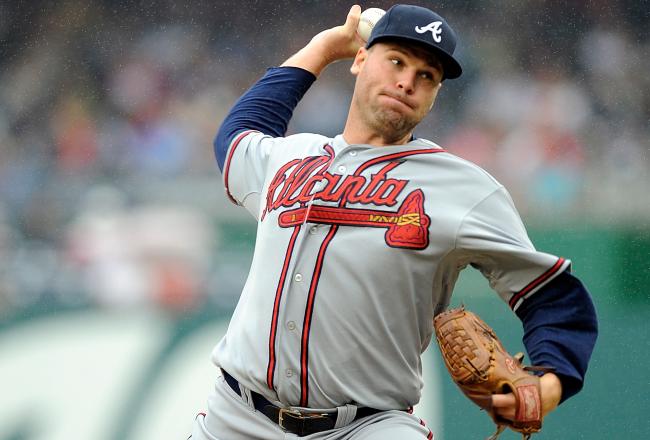 1. Atlanta Braves (1st WC): Ben Sheets continued his incredible comeback and the Braves continued their dominance over the Phillies this season in a 6-1 win. Sheets, who was out of baseball in 2011 and had to have a tryout just to earn a spot on the Braves' triple-A team, allowed one run on seven hits and a walk over 7 1/3 innings. The veteran right-hander is now 4-1 with a 1.41 ERA despite allowing nearly a hit per inning and striking out only 23 batters in 32 innings pitched. Jason Heyward hit his 18th bomb of the year and Freddie Freeman drove in two for Atlanta. The Braves have won their last four games against the rival Phillies.
2. Pittsburgh Pirates (2nd WC): Erik Bedard hurled seven scoreless innings, Gaby Sanchez drove in his first run as a Pirate, and Pittsburgh defeated Arizona, 4-0. Bedard surrendered just two hits and walked none while striking out five en-route to his sixth win of the season. Neil Walker, Travis Snider, and Rod Barajas recorded the other RBIs for the Pirates, who closed to within 3.5 games of the NL Central-leading Reds.
3. St. Louis Cardinals (2.5 GB): Carlos Beltran hit his 26th homer of the season, the offense scored six or more runs for the sixth time in seven games, and the Cardinals beat the Giants, 8-2. The Cards are now leading the NL in batting average and OBP, while posting the second-most runs scored and fourth-highest slugging percentage in the league. Jon Jay went 4-for-4 and drove in two and Jake Westbrook backed up the bats with six innings of two-run ball. Edward Mujica pitched his fourth-straight scoreless appearance since being acquired from Miami.
4. Los Angeles Dodgers (4 GB): The Dodgers couldn't solve Drew Pomeranz or the Rockies' bullpen and L.A. fell to Colorado, 2-0. Shane Victorino is just 4-for-21 since joining the Dodgers, Hanley Ramirez is now hitting .243 after a dismal .176 start to August, and Los Angeles is now 26th in runs scored, 29th in slugging percentage, and 21st in batting average. Cleanup hitter Andre Ethier hasn't hit a homer in 21 games and has hit just one over his last 37 games played.