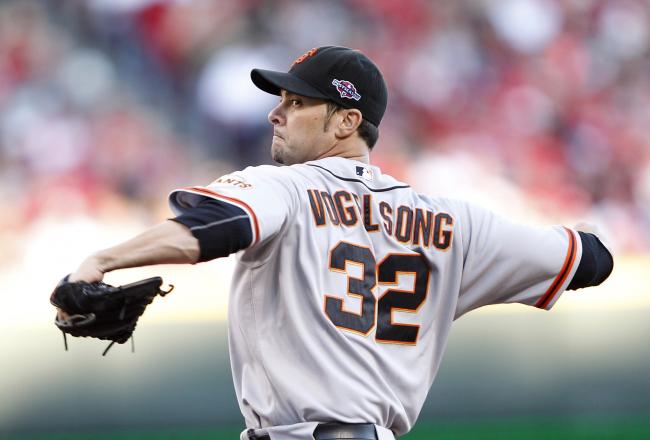 Last season, Ryan Vogelsong was a 33-year-old journeyman rookie starting pitcher who no one had ever heard of. Vogelsong pitched in the minors for San Francisco and Pittsburgh 1998-2003, pitched two major league seasons for the Pirates in '04 and '05 with ERAs of 6.50 and 4.43 respectively, pitched in Japan for three years, and then pitched one more triple-A season in 2010 that he split between the Angels' and Phillies' affiliates. Originally drafted by the Giants in the 5th round of the 1998 amateur draft out of the Kutztown University of Pennsylvania, Vogelsong returned to the Giants' triple-A team in 2011 and went 2-0 with a 1.59 ERA before being called up to replace an injured Barry Zito on April 17th. The rest, as the saying goes, is history.
Vogelsong made the All-Star team and finished 11th in Cy Young Award voting in 2011 in large part due to ranking 4th in MLB with a 2.71 ERA. In '11, Vogelsong also went 13-7 while hurling 180 innings for the Giants and posting 2.9 wins above replacement. This season, Vogelsong continued his fantastic story to the tune of a 14-9 record with a 3.37 ERA, and has come up huge in the playoffs thus far for San Francisco.
Vogelsong was strong in his only NLDS start, allowing one run on three hits and three walks over five innings while striking out five Reds. In Game 2 of the NLCS, Vogelsong shut the Cardinals lineup down and earned the win, allowing one run on four hits and two walks while striking out four over seven innings, which was also the first time a Giants starting pitcher had lasted more than six frames this postseason. Vogelsong also dominated his only meeting with the Cards during the 2012 regular season, hurling seven shutout innings while allowing just three hits and three walks. Digging deeper into the Vogelsong-Cardinals matchup, Carlos Beltran is hitting .462 with a .563 OBP with four doubles and a homer in just 16 career plate appearances, while Jon Jay is hitting .300 off of Vogelsong. On the other hand, David Freese is hitless in six appearances against Vogelsong in his career, while Yadier Molina is just 3-for-14 with a walk.
Vogelsong has been nothing short of spectacular since his career resurrection in April of last season, and while he is a great story, the Cards hope he finally runs out of magic in Game 6 tonight.